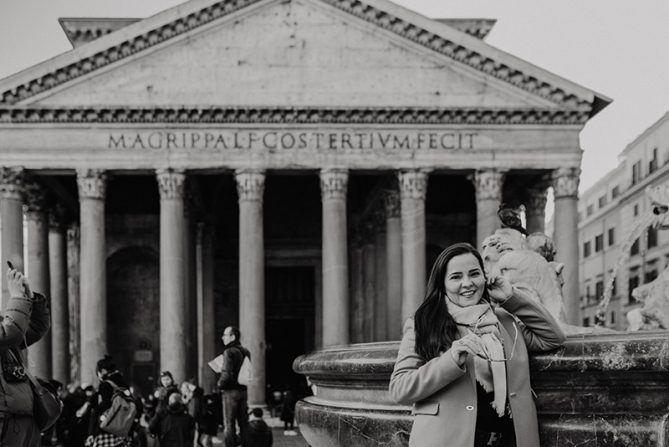 In times of coronavirus , pandemic, social isolation…. insecurity and fear of what may be yet to come happens and is normal. However, we cannot despair and the important thing is to plan . And when it comes to marriage, planning is the rule, the law and essential for the dream not to become a nightmare. I have talked a lot with my boyfriends and advised to stay calm , be rational and find the best way out. And, for many of your fiancés, postponement is the best option. Some thought not to postpone it, but it is the best thing to do. Postponing the dream of marriage is essential for everything to happen in the best way. And when we talk about destination wedding, postponement is more than inevitable, since countries are behaving in different ways.
Like the page of Aonde Casar on Facebook!
DELAY OR CANCEL?
Definitely postpone! The international market is open to the bride and groom. All suppliers are willing to postpone the wedding until after the Pandemic and at no additional cost (the vast majority). So far, all my weddings that would take place during this period of the pandemic are being postponed at no extra cost and all suppliers are united to make these weddings happen in the best possible way and with much more hugs and kisses, rsss!
And this non- financial loss happens in the case of cancellation. The problems are happening more in the case of cancellations on the part of the bride and groom because in this way the amounts already paid should not be reimbursed, because there is the option of postponement (nobody is preventing them from getting married) and everyone has worked so far to build the marriage. And this is happening not only in the event market, but also in the hotel market (many have their own tariff policies with or without cancellations).
EVERYONE SHOULD DEFER?
I suggest postponing yes! For my fiancés, I am recommended to postpone who had a date in the months of April, May, June and July. And these have priority on my agenda (and on the agenda of many professionals). For the other engaged couples in the second semester, we are indeed rescheduling for those who do not want to wait , but I still think it is possible to wait a little longer, especially for those who are getting married from September onwards.
WHAT CHANGES FROM A WEDDING IN BRAZIL TO A DESTINATION WEDDING?
Some things. 1 – Change the date issue , because just think that the whole world is rescheduling weddings. And if you have chosen a traditional destination for your wedding, it is possible that the dates are quite tight. 2 – your guests. Many do not know if they will be able to take a few days off or a break for the new date. What we've been doing is securing a new date.
I take this opportunity to share with you the testimonials, advice and tips from professionals around the world who are my friends and partners in this universe of destination wedding:
Lana Olifer, wedding planner for Lana Wedding Planner, Dubai and Ukraine:
"My best advice or (let's say) suggestion for all brides is to stay positive and accept that you and your wedding planner are in control of this situation. What happened – it happened! Nobody can change that! Then, STEP 1 – acceptance of the fact that your wedding will not take place on the planned date; STEP 2 – postpone and DO NOT cancel your wedding. Why would you think about canceling it? Don't you love your life partner anymore? Don't you want to see yourself in a beautiful white dress at the altar saying Yes to him? What is wrong? And the answer is: "there is nothing wrong, I still love my fiance and I want to become his wife!" STEP 3 – consider new circumstances and decide TOGETHER which new date will be the best for you! STEP 4 – inform your wedding planner and ask him to reschedule all suppliers for the new desired date.STEP 5 – smile and be positive! Now you have a new date and still want to marry YOUR FACE! Enjoy this time for yourself, but not for your nerves. Keep them for your future cute babies "
Janine Serpe, director of Gateway Travel and Cruises, California:
"I suggest rescheduling, with the quarantine problems being extended, you will be able to get a new date much easier, than start the whole process from scratch again. Suppliers are giving priority to those who reschedule. "
Micheline Diab, wedding planner for Giritaly, Lebanon and Italy:
"Couples are frankly lost and do not know what to do. They want to get married and they want the best wedding, but they don't know till when to postpone. Is September a good month? Or In the next year? Is it possible to wait that long? Postponing is the best thing to do. With patience and time, we can clarify the situation and this is our main objective."
Roberta Pompeo, wedding planner for The Different Twins, Italy: 
"All the marriages in March, April, May and June and July have been postponed to 2021, in the hope that, by then, our world as we know it will return to normal. Even couples who organized their wedding from August to October would do well to suggest a possible plan B. Having a range of alternative dates is not a bad idea. Combining the availability of all suppliers again will not be easy. It is difficult, sad and frustrating, but there are many risks to a marriage so early in the pandemic. You need to immediately approach all contracted suppliers and ask about their policy to postpone. What we are seeing in the events sector is an overwhelming effort to empathize and support customers who are in this difficult decision in the best possible way for each company. Most are open to transfer customer deposits to a new date, if available (without a redial penalty). Many ask for another installment of the deposit to be made after the signature of the new date of the event; this is simply to help alleviate the financial loss of all final payments that many suppliers expected to receive as revenue for 2020. By the way, the wedding planner can take one of the most difficult and stressful moments of the bride and groom into life and simplify the postponement process. He will certainly work as quickly as possible to bring together all supplier policies and positions in the material,gather everyone's availability for future dates and what the financial implications are to help the couple get a quick idea of ​​which postponement date is in their best interest."
Karen Tancin, wedding planner for Classique Event, Australia
"The best option to reschedule. The first thing is to contact the venue and set a date that is suitable for the bride and groom and the venue. Remember the high season, vacation and national holidays. And the year 2021 is a better option than losing money. Canceling can be worse, because any deposits paid are non-refundable."
Nahid Farhoud, wedding planner for Nahid's Global Events, Los Angeles and SD:
"The main thing is not to panic and stay as calm as possible. I would advise you to do what is best for your family right now. No matter the date of the wedding or event, safety and concern for loved ones must come first. I highly recommend postponing, rather than canceling. It is always better to postpone the wedding than cancel. If they decide to cancel, they need to ensure that suppliers have this pandemic clause in their contract, if they do not examine the wording of the contract if it declares as a deposit and the supplier has not done any work, they will not reimburse you. Hotels or venues have been more inclined to postpone and are working with customers to maintain the same prices, but saying that if they postpone for a year, prices could increase by 7-10%, but they are accepting the case. Furthermore, it is always better for couples to have wedding insurance, it will really save them a lot of headaches with postponement or cancellation. I sometimes tell the couple if they really want to celebrate on that specific date to have their ceremony even virtual one and then when the pandemic is left then they can have a celebration with the family and friends."
I hope you enjoyed this special lot and any questions, write me!
Xoxo,
Simone